Elevating UX at StepStone
In late 2021, I (Debbie from Delta CX) was interviewed for a "CX/UX Strategy Consultant" job at StepStone (Totaljobs in the UK). This contract took place from early January through early July 2022.
An open VP of UX job for which they were doing an executive search. A need to elevate the UX team, improve their work, and make the department "world class."
I would be in that VP position for the interim, answering directly to the Chief of Product, Technology, and Marketing. As that person was rarely available, I mostly answered to and worked with the Director of Product Operations. I also collaborated with the Chief of Staff, Head of HR, Head of Operations, and other leaders.
I was also responsible for elevating the UX department and practices, improving relationships between UX and Product, diagnosing what was keeping StepStone from being more customer-centric, and strategizing how they can be more customer-centric.
The first 4-8 weeks were spent interviewing more than 70 people. I met the entire UX department (roughly 35 people), some Product Managers, Product leadership, a few Engineers, Corporate Strategists, CX leaders, and various high-level executives in Germany and the UK.
These were one-on-one private interviews. To make participants more comfortable telling the truth and deeper stories, I did not record the conversations. I did take over 3000 notes in a Miro board.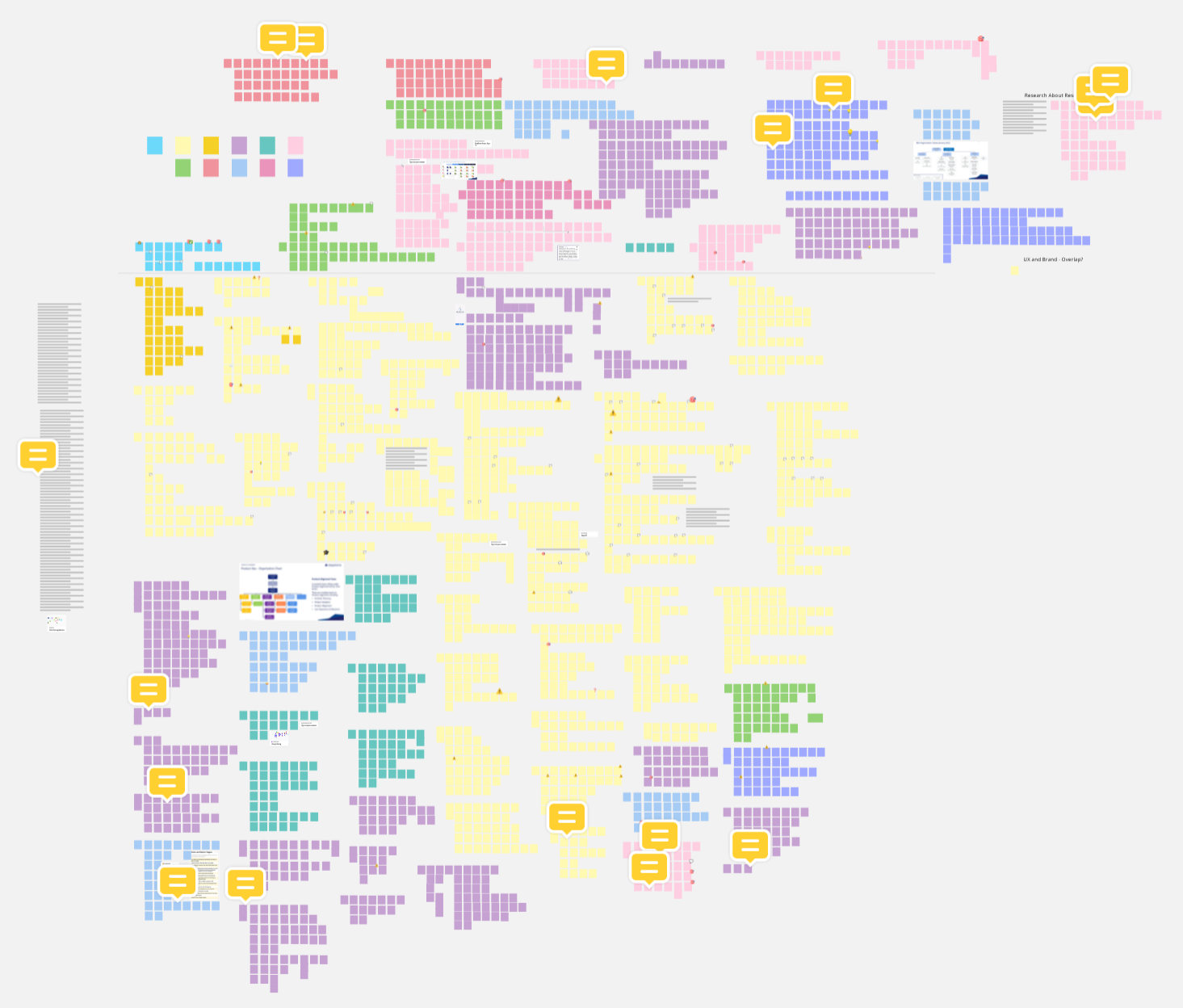 Within the first week, it was clear what some of the main problems were as well as their root causes. Dozens of people mentioned the same two "toxic" people. Most people felt immediate trust for me, and shared stories that ranged from unfortunate to angering to unbelievable.
Insights, Opportunities, Suggestions
Two months into the contract, I created a long PowerPoint presentation (over 120 slides) with extensive detail on everything that I found. I included actionable suggestions and changes to improve or fix what I found was going wrong internally.
I made a short presentation version, and presented that to Product, Technology, and Marketing leadership. The main responses were that some people were already aware of some of these problems. The C-level executive expressed a commitment to finally improving these situations.
I provided a detailed list of initiatives and plan. I started reaching out to leaders who owned those areas. I found that people understood the problems I described, but didn't seem interested in or incentivized to create change. Some had given up hope that change could happen at all.
Deliverables as Change Agent
Two reports, one two months in and one at the end of the engagement. My goal was to provide as many actionable insights and suggestions as possible.
Overarching strategy and prioritized plan for change.
With some of my change initiatives stalling where buy-in was needed, I was told to turn my attention to elevating the UX team and the quality of their work.
I worked with the Head of UX on redesigning the org and planning how it would grow, who we needed to hire, and where they would be assigned.
I delivered two educational sessions mostly to Product, UX, and Engineering about what UX is, who does it, how and why, and how to work best with them.
I co-wrote the Product Discovery Playbook and the UX Collaboration Playbook.
I coached and mentored individual members of the UX department in both research and design.
I reviewed our job descriptions, Competency Matrix, and helped interview candidates for open positions.
I trained the UX department on Axure prototyping software, and helped individuals working on complex prototypes.
I was brought into meetings and workshops where UX teammates hoped I could talk the people who called the meetings out of something customer-peripheric (anti customer-centric) that was going on.
Concerned about the trajectory of what was described as 2022's most important initiative, I personally did some IA and interaction design work, which was well-received.
The Director of Product Operations told me he liked my work, they were happy with it, and the new VP of UX due to start months later would pick up where I was leaving off. This person later changed jobs, and the C-level exec I reported to left.
I can only hope that StepStone has tried or will try at least some of my advice. I don't keep in touch with many people from StepStone, but the ones I hear from say that I am "sorely missed."