Customer-centricity puts target audiences at the center of strategies, decisions, and actions.
Customers expect
high quality and value
from every interaction with your company.
People notice when we don't meet their quality standards. Our reviews, stock price, support tickets, and customer attrition clearly show that what we thought was "good enough" isn't. If you lose potential or current customers in one channel, you've probably lost them in every channel.
But transforming toward customer-centricity strengthens customer relationships and increases revenue.
Save money, reduce risk, work more efficiently, and improve culture while increasing customer satisfaction and loyalty.
But it's not enough to tell you that you can do these, or "just make a customer journey map." We're dedicated to actionable advice and work related to:
Strategies and tactics to help your company, teams, and projects transform toward customer-centricity.

Product discovery techniques and product-market fit to increase traction, adoption, loyalty, and retention.

Combining customer-centricity with being Agile and Lean. Increasing efficiency and velocity.

Experimentation, innovation, and disruption. But also getting the fundamental basics right for customers.

Utilizing the right metrics to measure business and customer goal achievement.

Capturing Voice of the Customer (VOC) feedback through qualitative and quantitative research including observations, interviews, surveys, and NPS.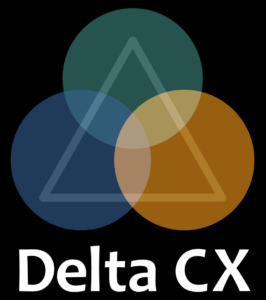 We are Delta CX, a full-service CX and UX agency and consultancy. We are
change agents
focused on improving business processes and customer experiences.
We offer four types of services, completely customized based on your needs and goals. Delta CX offers big consultancy work with reasonable prices and timelines.
Consulting and Business Design
Companies often need help investigating and diagnosing what's blocking them from being more customer-centric and achieving their business goals. Some companies realize they can't squeeze anything more out of workers without burning them out, and need to shift towards efficiency and culture improvements.
We offer human-centered business design, aimed at balancing the achievement of company goals, business metrics, employee experiences, and Customer Experiences and outcomes.
Whether you call this role or work Customer Success Consultant, Customer-Centricity, CX, UX, DX, Business Designer, Experience Strategist, Change Agent, or Chief Problem Finder and Solver, yes, we do that.
CX Programs
CX programs too often fail when they lack strategy, planning, buy-in, budget, or an understanding of why improving CX matters. Some teams imagine that if they are trained on creating customer journey maps, they have all they need for a CX program.
We help communicate the advantages of investing in Customer Experiences. We strategize and plan your program, and shepherd it through early implementation and success.
We also elevate CX and UX practices. We help companies hire CX and UX leaders and staff. If you're newer to CX or UX, you are unlikely to pick the right person for the job. We work with you to understand what you need, write job descriptions, review candidates, and can interview and recommend top candidates.
Training, Coaching, and Fractional Leadership
Training is often the first step in business transformation. If leaders and staff learn new techniques but aren't empowered to change ways of working, training can be an expensive failure. Our training comes with strategic planning and
coaching
to help you follow through on the promise of change. We also offer Fractional Leadership packages in the areas of CX and UX strategy, research, and design. For companies who have not yet hired a CXO (Chief Experience Officer), we play that role while helping you find the right person for a permanent job. Fractional leadership is a cost-effective choice when you have started out with a small team of more junior CX or UX staff, and need experienced experts to monitor their quality and help them level up.
CX and UX Projects
Your teams are understaffed and overworked. You might be looking for outside experts to take on one or more projects. Our Researchers and Designers bring fresh perspectives, critical thinking, and deep knowledge and expertise.
There is no charge to meet with us and have your project scoped and priced. Please get in touch. We would love to understand and solve your problems.
Customer-centricity isn't…
Customer-Obsessed
IF we are obsessed with how to push or force customers to do what we wanted.
Product-Led
IF we are speed over quality, or haven't invested in understanding target audiences and their needs.
We must be value-led, prioritizing what it takes to solve real customer problems and pain points over guesses and "just ship it and we'll fix it later."
Customer Journey Maps
IF those maps were created from assumptions. We must observe and speak to a broader range of current and potential users to avoid working from stereotypes, outdated information, and guesses.
Data-Driven
IF your "data" is manipulated, full of assumptions, or incomplete. We must be evidence-based and data-driven, but guesses should not be treated as good evidence.
Customers Know You Suck: Actionable CX Strategies to Better Understand, Attract, and Retain Customers
Customers Know You Suck is the how-to manual for customer-centric product-market fit. Its highly actionable models, maps, and processes empower everyone to improve the Customer Experience (CX). Learn how to investigate, diagnose, and act on what's blocking teams. Gather the evidence and data that better inform decisions, leading to increased satisfaction, conversion, and loyalty. Use our governance model for implementing and monitoring the progress, success, and failure of internal process changes and experiments.
In its first week on Amazon, it was a #1 New Release in Amazon's Business Decision-Making, Strategic Business Planning, Consumer Behavior, and Customer Relations categories. It reached #28,305; with over 12 million books on Kindle, that puts it in the top 0.2%.