Managing people and changing processes at Immersion Group
In June 2021, I (Debbie, Delta CX CXO) was retained by South African CX/UX/UI consultancy Immersion Group for a contract as Head of Experience Design.
A small but busy consultancy of over 40 people focusing on CX, UX, and UI work around Africa, mostly for banks.
They were hoping to move their current Head of Experience Design, who was one of the co-founders, into more of an executive CXO role. They also had some internal disorganization that needed someone to take a fresh look and fix it.
Originally, Immersion had signed a 1-year contract with me and hoped I would stay on beyond it. I loved working there, and certainly would have considered that! Unfortunately, mid-2021 brought some unforeseen instability to the South African economy, which affected Immersion's available budget for contractors. My role was among the cuts made.
The Board of Directors decided that I had delivered enough work for them to carry on where I had left off. I got a lot done in three months, capped at 32 hours per week.
I started with hour interviews with most of the high-level staff and employees who had been there the longest. Within days, I had a good picture of the company's strengths and weaknesses. I began to map out my strategies, initiatives, tasks, and their timing and dependencies.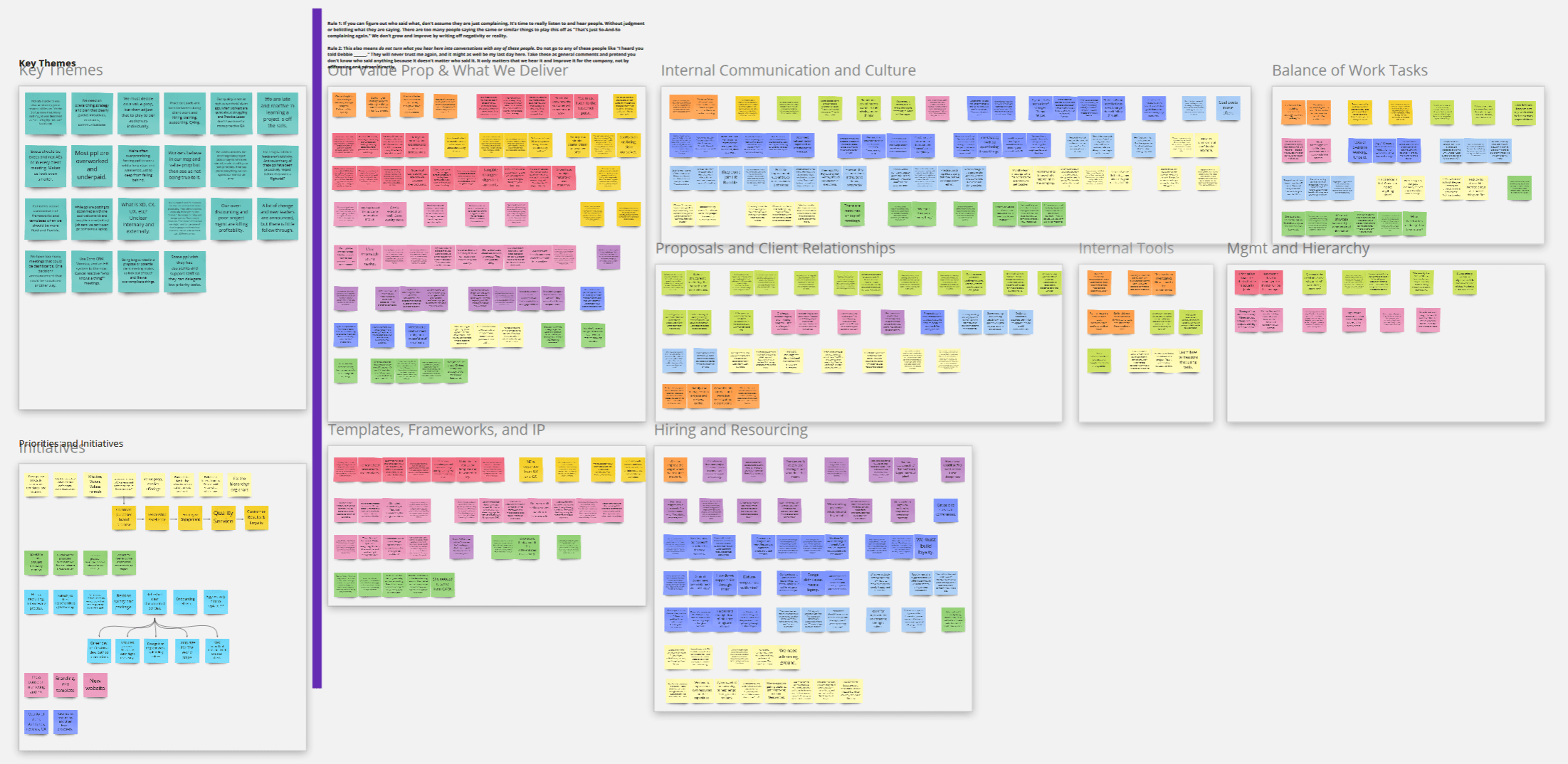 As Head of Experience Design
This was a client-facing role where I was responsible for the company's CX, UX, and UI practices. I ran strategy, operations, and everything related to the practice areas.
Managed 6 people directly (3 managers, 3 Lead UX) and nearly 20 people indirectly.
Redefined work QA. I created and implemented more frequent work checks than had been done as well as a scoring system. This system would not only raise work quality issues immediately but could later be used as a reference for for performance reviews.
Refreshed job titles and hierarchy to create a clearer path for growth and leadership.
Expanded our capabilities, especially in specialized qualitative research.
Jumped in on a project and did 5 interviews that included evaluative research.
Met with clients to present current work.
Met with potential clients to understand their needs and work on a proposal.
As an Internal Change Agent
As an internal change agent and in collaboration with the Heads who own each of these domains:
I refreshed our mission, vision, values, brand promise, and value propositions.
I changed how we interview, increasing our efficiency and removing "design challenges" unless absolutely necessary.
I pushed for a visual rebrand, new website, and PPT deck/template.
I rewrote the PPT slides we show to potential clients.
I changed how we scope and propose projects. Great accuracy and granularity sets up our teams and the project for greater success. This new process offers many downstream benefits.
Clearer internal process for how we respond to RFPs.
Replaced spreadsheets that one person had access to with Monday.com boards that anybody can see and update at any time. This made mission-critical information available to the people who needed it, and reduced weekly "look at the spreadsheets" meetings.
Changed how we assess external vendors and freelancers to better enforce our standards for quality.
Partnered with HR on improvements to the culture and a refreshed Employee Value Proposition with updated policies including remote work.
Improvements to how we resourced projects, oversaw their progress and health, keeping an eye on the budget.
People were excited about the changes.
Six weeks into my contract, the CEO told me,
"I can relax for the first time in months."
That said a lot.
Co-workers and people I managed left glowing recommendations on LinkedIn:

"Debbie is the most brilliant design leader I have ever worked with. Debbie works practically and in a deeply human-centered manner. The speed at which she delivers results is unsurpassed and the quality of her outputs exceptional."

"Debbie is able to identify problem areas quickly and offer solutions that make a difference on the ground. Just a few days after she arrived processes and focuses started changing for the better. The thing I love most about Debbie is that she is able to not only see what the business needs strategically but also then builds solutions that can be implemented quickly and effectively by her team members. She is not just a great thinker but a great doer as well."

"Debbie is an incredible design leader. She's really passionate about the users and people our designs affect, always applying empathy and care to the methods and techniques. Meetings with Debbie are always positive and she always makes time to help out, no matter how full her own diary is."

"Debbie is an amazing design mentor, coach, and leader. If something is important to you, it's equally important to Debbie. She's solution-focused and detail-oriented, but also completely personable and down-to-earth, and epitomizes her low-ego mantra. Her passion for all things design is infectious and inspiring."