Research, strategy, and business design for a fintech startup
In January 2023, we started a six-week generative research project for a funded fintech startup that was wondering what would be the best problems to solve for their target audience.
This project was generative and exploratory UX qualitative research meets business design and product management; product strategy and discovery through learning more about target audiences' behaviors and unmet needs.
Target audience demographics: American millennials.
The topic area (confidential) in which products and services might be offered.
A lot of questions about which problems they can solve, what product or features to build, and what target users might pay for it.
A "user research" report from a marketing agency that wasn't actionable. The research appeared to mostly ask eight millennials in New York City what types of features they might like in an app related to this topic area. The startup was unable to strategize, prioritize, or create a product roadmap from this report.
To better understand target audience behaviors and mental models related to this topic area.
Evidence-based problem statements that their company can solve.
Our suggestions for their CX/UX/product strategy including prioritization and a high-level roadmap.
The project was planned as 6 weeks for one Lead Researcher, Debbie Levitt, and two Mid-Level UX Researchers, Kelene Lee and Karen Davtyan, as assistants. Debbie estimated 286 hours for Kelene and Karen, who were told to please log every hour they used even if it went way over my estimates. They ended up logging 282 hours. The project was on time and on budget.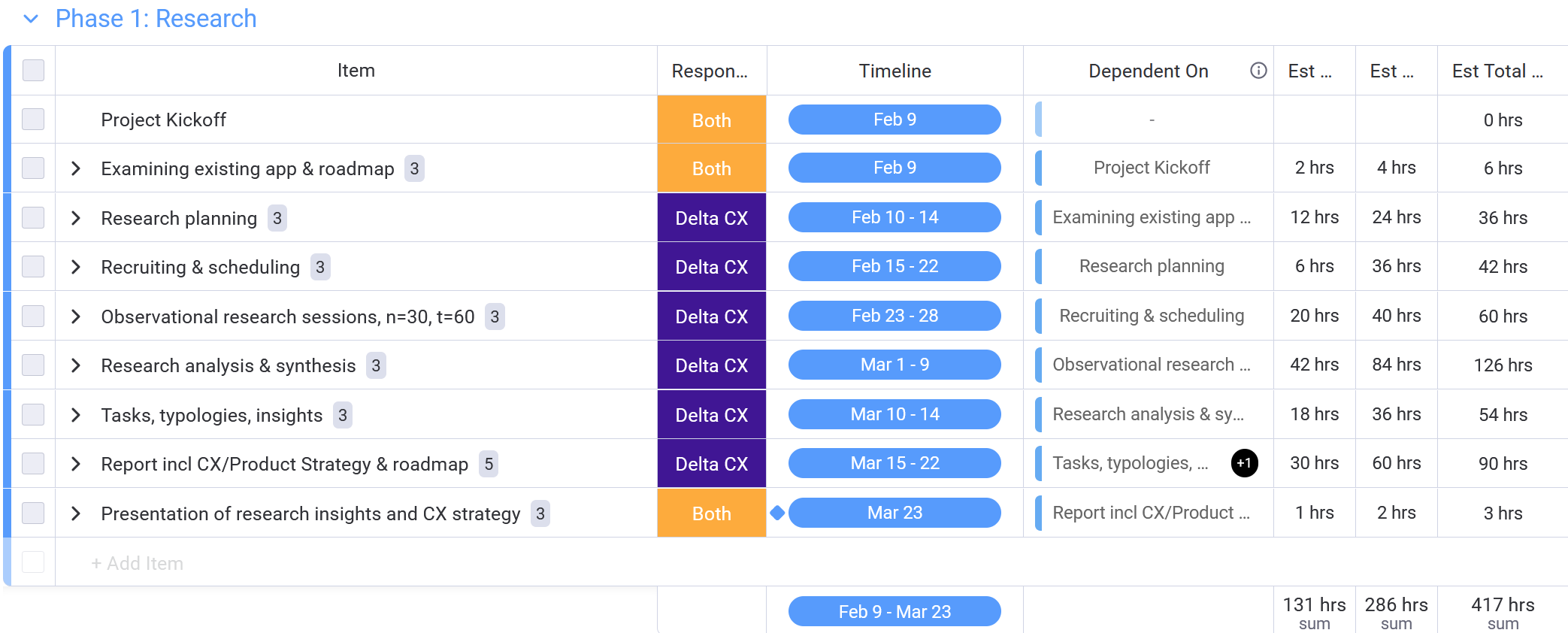 Research Planning Exercise
We started with an interactive Miro board where the client could share their guesses, assumptions, and what they wish they knew about their target users.
We conducted some research around the domain including competitors and other tools or systems people might use to accomplish the tasks related to this topic area.
Goals, Planning, Strategy
Given the topic area, we adjusted the target audience to millennials living in America and self-assessing as having some money left over at the end of each month. Research planning included asynchronous check-ins with the client.
We wrote a session protocol based on having 60 minutes with each participant. All sessions were one-on-one and in English. We aimed for 30 interview sessions with observations where possible.
This topic area is something that people normally do over months or years, so it is not well suited to a diary or observational study. Therefore, we mostly spoke to people about their behaviors, decisions, and processes, and observed where people were willing to show us some of their tools or workflow.
Recruiting, Scheduling, Communication
This ended up being faster and easier than we had expected because we found a lot of perfect participants through Craigslist posts.
Our screener survey not only helped us to focus on the best participant profile matches but also to weed out bots and liars. We had a question that included a fake answer. With over 400 survey replies, roughly 11% of people had selected this fake answer. They were disqualified from the study.
Knowing that people might cancel or not show up, we always schedule 1.2n, which was 36 people.
One person didn't show up and three interviews ended up mostly unusable. Of these three, one did not perform the task themselves, one could not answer questions directly no matter how many times they were asked, and one was quite high on marijuana and making no sense.
We had 32 completed and usable sessions that ran 30 to 60 minutes each. All were moderated and recorded on Zoom.
We brought the recordings into Dovetail, which transcribed them. Our analysis and synthesis process included going through these files in Dovetail to tag the data, and moving tagged data and our other notes to a large affinity diagram in Miro. The image below is purposefully small and blurry.
We then wrote many problem statements and paired them with high-level suggestions of how they might be addressed by our client.
Insights, Opportunities, Suggestions
Listening to everybody's stories quickly surfaced a set of typologies. Rather than traditional personas, which are often not very actionable for most clients, we focus on typologies that reflect commonalities across behaviors, needs, and mental models.
We ended up with five typologies that also represented a behavioral evolution in that people in Group 2 are likely to next be in Group 3 or Group 4 if they improve their own task. Group 1 wasn't motivated to do much yet. Groups 2 and 3 were stuck. Group 4 was doing well but was open to help and advice. Group 5 were our savvy experts.
Among other insights, we learned that many of the client's assumptions were partially or wholly incorrect. For example, the client imagined that their MVP might be a paid social network focusing on this topic area. An overwhelming majority of our participants did not want to discuss this topic on social media, and sometimes not with friends or family at all. Some liked the anonymity of Reddit.
Therefore, the MVP should not only be a social network, and certainly not a paid one. We recommended that social media features require complete anonymity and heavy moderation to build trust and help people feel safe and protected.
A set of typologies. These were five behavioral types where every participant we met fell into one.
Our final report, a slide deck with 74 slides. This report included problem statements and suggestions, and then went in deeper on the unique ecosystem we believe the client can invent. We also created their business model and the products on which they will make money
Overarching CX/UX/product strategy.
A product roadmap in Monday.com suggesting "now, next, and later" features. 
Detailed the current and future product using an ecosystem map, which is below and purposefully small and blurry.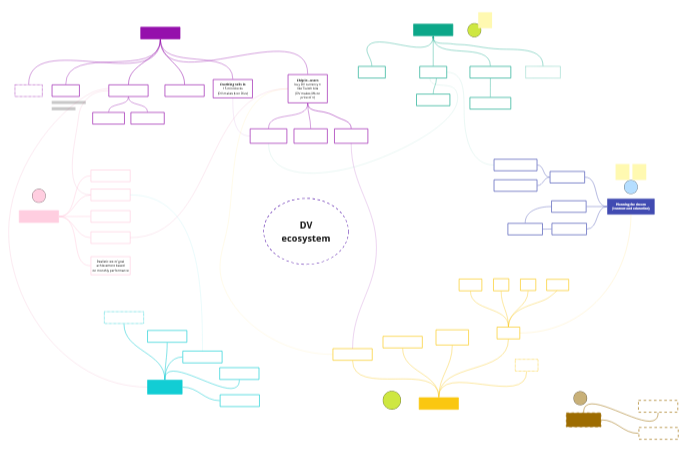 We designed this startup's business
and created their unique product and service offering. We also created a business model for them that did not rely on a subscription.
A tale of two research studies
While we were working on our research study, one of the startup co-founders decided to go out and try some of his own guerilla research to see what he could learn. We supported this and gave him a little bit of coaching.
During our final Q&A call to wrap up the project, the client hinted that a key insight from the research they ran was that people were not very motivated around this topic area. They wanted to know if we learned the same thing. We had found that some of our participants were not motivated. We put them in the Group 1 typology, but we understood why they weren't motivated at this time and stage of their lives: this topic area was not a priority. Other things were going on in their lives and work that made this topic area something they might consider acting on three to five years from now.
Our business design and ecosystem considered this, indicating that Group 1 might use our proposed system, but is not a key target audience due to this being low priority. We did not propose features that would try to motivate Group 1 to care more about this topic area.
It's important to remember that if your research tells you that the key problem is a lack of motivation, you will attempt to solve this problem. You might create a system centered around motivation and inspiration. You might gamify achievements, focus on mindfulness, or try to help build confidence to believe you can do it.
You might feel confident and evidence-based because your research showed that people lack motivation. However, if the lack of motivation is a symptom but not the root cause, you might solve the wrong problem and create the wrong product. Sometimes what looks like the core problem is only a symptom or a clue, and we must further peel away the layers of the onion.